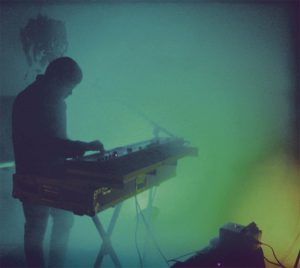 Outer Reaches is a music festival based in Kansas City that showcases the 'out there', left-of-center, under-the-radar artists experimenting within and pushing boundaries in their respective genre. Regional acts as well as national and international touring acts are a part of the festival's spirit, celebrating the variety of experimental music around the globe. There has always a strong tie to music that would fit into the realm of psychedelic music, but the festival has since opened up to more genres with a goal of promoting all music that is adventurous and mind expanding.
The concept for Outer Reaches was started in 2012 as KC Psych Fest by Dedric Moore, owner of recording space HQ and member of Kansas City experimental groups Monta at Odds, Gemini Revolution, and Mysterious Clouds. Before this festival, there often wasn't a venue or forum for left-of-center music in
Kansas City and these acts would often be stuck on one-off underground shows. He pitched the idea of a festival specifically for psychedelic music to the Kansas City, Kansas arts space FOKL and an all-night planning session was held with the assistance of Justin Wright of Expo '70.
The first KC Psych Fest took place at FOKL arts space in Kansas City, Kansas over three days in mid-May 2012. Utilizing the upstairs and downstairs of the space and projecting video onto 3D sculptures (courtesy of VJDN8 and Sam F), it created a wild backdrop of visuals to go along with the mind-bending music. Highlights of that first year include sets by Be/Non, Mr. Marco's V7, Umberto, Gemini Revolution, Monta at Odds, Expo '70, Metatone, The Conquerors, and Jorge Arana Trio.
Year two of the festival shifted to a multiple venue event in Kansas City, Kansas. Once again the festival was held in May and coordinated by Dedric Moore and FOKL. Early shows happened at the Dedric's recording studio HQ and late shows in the downstairs space of FOKL. Several of the mainstays from year one performed for year two, with some exciting up-and-coming acts such as Your Friend, Stacian, Aaron Martin, and Bloodbirds peppered in.
After hosting 25+ bands each of the first two years, the FOKL art space shifted focus in 2013. Steve Tulipana, longtime appreciator of experimental music and the owner of Kansas City, Missouri music venue The recordBar, offered up the venue as a future home for the KC Psych Fest. The event was moved to recordBar (and Missouri) for a three day festival and changed to a fall event in early October. Brenton Cook, the owner of Kansas City cerebral indie music record label Haymaker Records, also jumped on board to help in the planning for the event. KC Psych Fest 2014 continued to feature the great local Kansas City experimental / psych acts, but the additional space and established venue environment allowed for some touring national acts to join the festival. Magic Castles, Gringo Star, White Mystery, Bailiff, and Darsombra joined the lineup of the twenty local bands already on board.
KC Psych Fest 2015 saw yet more changes to the configuration. Rather than a having the event as a fixed weekend festival, the event was broken out into multiple events over the course of the year. The first event was held at Kansas City rock club The Riot Room and featured UK / Austin psychedelic rock band Ancient River, joined by local backing bands HMPH!, Mysterious Clouds, and Drugs & Attics. The second event for 2015 was held at MOD Gallery in the Crossroads Art District as part of the 11th annual Crossroads Music Fest. Local acts Dark Satellites, Riala, Freight Train Rabbit Killer, The Philistines, Janet the Planet, and 3 Son Green played a Haymaker Records / KC Psych Fest curated stage at the Kansas City music festival. The main two-day KC Psych Fest 2015 was held October 2nd and 3rd at recordBar once again, being a tie-in with the 10-year anniversary of the recordBar venue. The line-up featured some staples of the Kansas City music scene like Jorge Arana Trio, The Philistines, and Be/Non as well as some new arrivals like Via Luna and Merlin Some great touring acts were lined up for the 2015 festival with Holy Gallows, The Van Allen Belt, Crushed Out, Wet Socks, and DFA Records' own Slim Twig.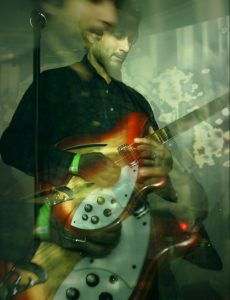 2016 saw a lot of changes for the festival. First off, the official festival was rebranded from KC Psych Fest to Outer Reaches. This included new organization, a new website, a new logo, and new marketing campaign. Two events were held in early 2016, the first was a show in collaboration with the Charlotte Street Foundation and held at La Esquina, showcasing the artwork of Kevin Harris from St. Louis and showcased live sound and visual collaboration performances from Expo '70 and Eric Hall. The second event was in support of Canadian band Living Hour and featured support from Kansas City bands Rachel Mallin + The Wild Type and New Baboons. The first event under the Outer Reaches name is the official 2-day festival on September 30th and October 1st, 2016. Outer Reaches 2016 was held at the newly located recordBar location at 1520 Grand Blvd. For the first time since the first year of KC Psych Fest, the festival had a multiple stage setup for a near non-stop barrage of adventurous music. Day 1 featured nine acts featuring 7 bands from Kansas City / Lawrence area and national touring acts Open Fields and L.A. Witch. Kansas City's only Balinese Gamelan group, Gamelan Genta Kasturi, will make a notable first appearance this day. Day 2 features 7 bands from Kansas City / Lawrence and features national touring acts Gramps the Vamp and Magic Sword. Kansas City native Michael Angelo performed as Michael Angelo's Dreamfeast, marking the first time that any of his songs from his infamous self-titled (and critically acclaimed re-release) album from 1977 have been played outside of his Pop Montreal performance the week before. With the new rebranding of the festival, it allowed for the fest to branch out from being an exclusive "psych" music event to a fest that better embraces all genres of music with an emphasis on the acts that are really pushing the boundaries of their representative genre. Shoegaze, folk, blues, punk rock, and funk groups are notably making appearances on the 2016 Outer Reaches bill.
2017, with a year under the name Outer Reaches brand, the festival went bigger than it had ever gone before. Efforts were focused on only doing a single event with a single stage, but working with bigger national acts than ever before. Work began in February to book the two-day fall Outer Reaches 2017 festival. There was also a considerable effort made to upgrade the stage presence, utilizing video production group XO Blackwater to incorporate live video mapping to printed Outer Reaches logo elements on stage. Once again the event was held at the new recordBar location at 1520 Grand Blvd. Night 1 on Friday, September 29, 2017 featured five acts featuring including national touring acts Deerhoof (San Francisco, CA), Lily and Horn Horse (New York City, NY), and Matchess (Chicago, IL) as well as Kansas City acts Various Blonde and Mysterious Clouds. Night 2 on Saturday, September 30th featured national touring acts El Ten Eleven (Los Angeles, CA), Dead Rider (Chicago, IL), and Sego (Los Angeles, CA). Kansas City was represented on Saturday with Pageant Boys and a special rare appearance of Kansas City supergroup The Hearers.
2018 will feature two events on the year. The first event is a one-day festival at recordBar on Friday, April 20th called Outer Reaches Explores the World. This is a new format with an emphasis on artists inspired by rhythms and traditional instruments of the world, who have incorporated this sound in creative ways to construct new boundary-pushing music. This isn't a "world music" event per se and will still feature the familiar format of left-of-center music, it just has more of a worldly feel to it. This special event has been made possible through a grant from the Kansas City Neighborhood Tourist Development Fund and will function as a benefit for Midwest Music Foundation. Artists performing at this event include SUNU, Enrique Javier Chi (of Making Movies), Harptasia feat. Calvin Arsenia, Teri Quinn, and Brandon Draper's interactive lecture and world percussion workshop Drum Safari. The regular two-day main event of Outer Reaches will be happening a month later than usual this year on October 26th and 27th. Stay tuned for more news on that announcement.
As the festival continues to grow and changes, we maintain our gaze forward – embracing those musical acts that push the Outer Reaches.